Third Party Administrators and Financial Planner
Partner Payroll Program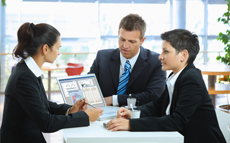 National payroll service companies are aggressively gaining market share in all insurance and benefit lines including 401(k) plans. Previously these integrated offerings were only available to large companies, now businesses of all sizes are more aggressively seeking these solutions. Your clients may already be receiving promotions from these national providers, many of which may be processing payroll with them.
If you want to retain your clients, attract new ones and generate additional revenue streams then Apex Payroll's TPA Partner Payroll is the right solution. Unlike the national payroll companies, we will not compete with you in your core business.
This program provides co-branding opportunities and a revenue share of your business clients who sign up for our payroll services.
Partner with Apex Payroll today.
Call us at (409) 899-5858 or tell us how to contact you.
We look forward to working together!